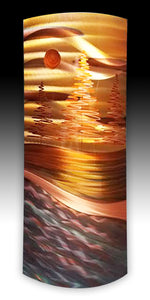 We are crazy about Copper Elements' wall panels! The rich colors are brought out in the copper not with paint, but by varying heat levels when torching! In certain lights, the copper seems to shimmer - and the unique shapes are memorable on any wall.
Made by husband and wife artisans, these beautiful hangings will also stand the test of time, thanks to their sturdy frame and the sealed copper. They will not fade in sunlight or diminish in beauty!
This is a 12" x 26" panel. Depending on in-store availability, these may ship directly from Dan & Frances - please allow a couple of weeks for shipment if that's the case!